Menu translation bloopers: 'cheep cheese' and other gems
November 17th, 2010 by Patricia
The night some friends of mine came in from New York, we went to one of my Paris haunts where the food is good and the service friendly and attentive.
Hearing my friends speaking English, the owner asked: " Voudraient-ils des menus en anglais ?" Well, sure, that would make my life easier, I wouldn't have to translate.
He distributed the menus, poured the wine and water and left us to plan our meals. As I was debating between the scallops and the lamb, I heard this rumble of giggles swelling from all sides, soon giving way to full-blown good humored laughter. There was nothing funny about my menu in French, so I grabbed one of my friend's. Indeed, as this study points out, the quality of menu translations has gone south in the last quarter-century.
Cheep cheese anyone?
And how about some "cumcumber" with that?
And some "chicken breast stove" after that?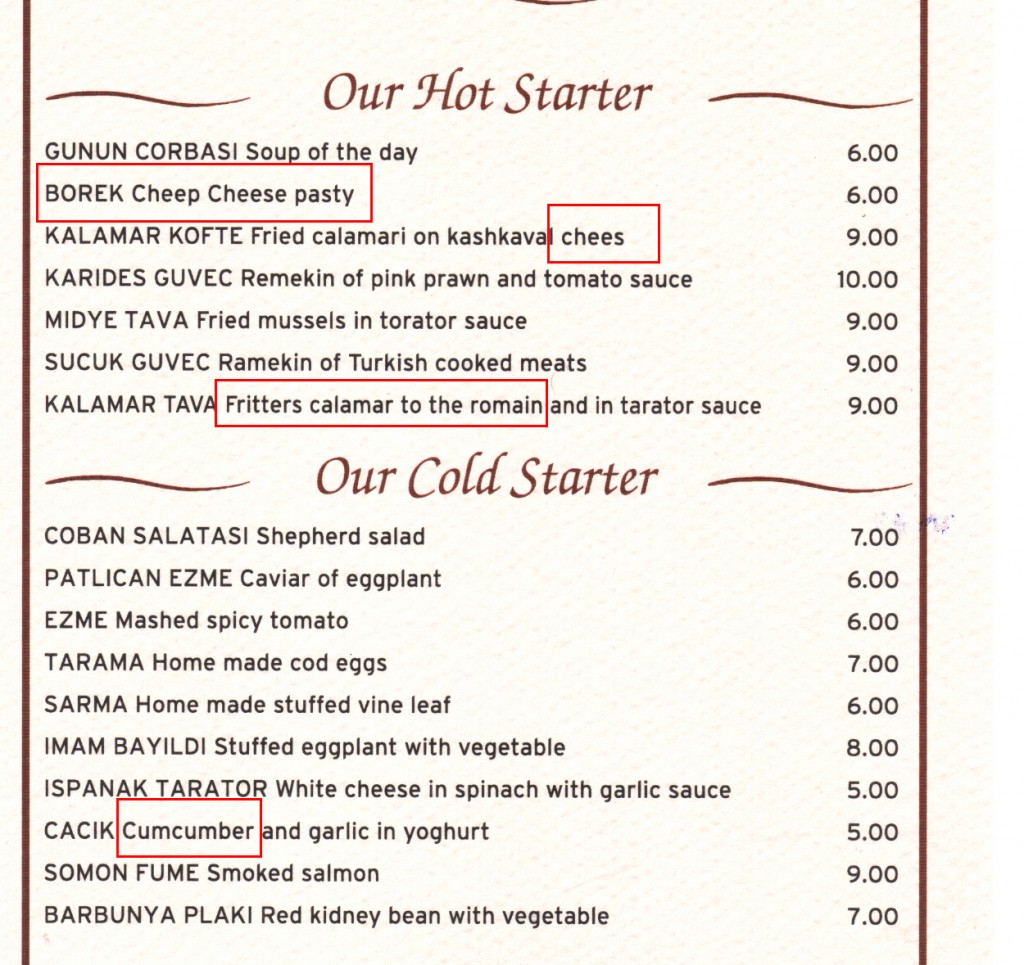 The 8-page menu was filled with such pearls and assorted mistakes. I went over to the owner and offered to make suggestions on some words unknown in the English language.
"My sister-in-law lived in London for several months and translated the menu for us. Maybe you don't know these words because they are British and you speak American," said he.
"Perhaps," I replied, "but even in London, there is no such thing as cheep cheese, unless you've gotten a bargain of sorts, and no one would be caught dead wearing or eating a cumcumber. You might want to think about having it reviewed, it leads to much confusion and, as you've noticed, laughter.

By the way, can I borrow it over night? I have a blog that deals with language and communication issues…"
When we getting ready to leave, the owner came to our table with a tray of after dinner drinks, a full set of menus under his arm, a bottle of red wine and a plea that I help him remove some of the humorous elements that cast umbrage on his cuisine.
He's gotten the message:  Just because your brother/sister-in-law/friend has spent some time in a country, that does not make him or her a native speaker or a proficient translator –  especially when relying on Google Translate.
Tags: linkedin, menu translations, siteEN, translation bloopers