Want to develop your business? Ask smarter questions
March 30th, 2012 by Patricia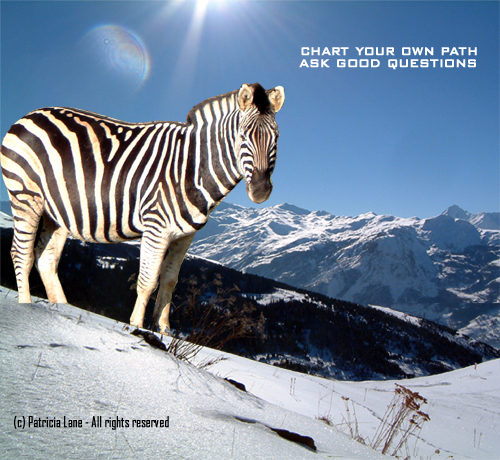 This is a follow-up to my post from a few weeks ago on how to ask better business questions, which focused on techniques to start a conversation with potential contacts.
But what about times when you've been having a business development conversation and suddenly, you feel the reigns may be slipping from your hands? What can you do to get back into the saddle and keep riding?
That's what's happening with a project I'm chasing where I know the fit is excellent. So I walked the talk and took my own advice on how to ask better questions.

Round one: Good questions start a good conversation
A few weeks ago, I was contacted through a referral for a large project. Instincts told me this was good, very good.
We set a date and time for a first meeting. And I prepped for it thoroughly, drawing up a 3-page brief questionnaire.
The two-hour exchange went well. Dynamics were good, exchanges lively and frank. We worked through page one of my list of questions. For the next step, we agreed I'd take part in a team brainstorming session the following week. I'd passed round one of what I sensed would be a long process.
Changes behind the scenes
A few days before the brainstorming session, I send a quick confirmation email.
And in return, I received a surprising note saying it's canceled. They have more prep work to do, are still putting together a team and they'll let me know what they decide.
"Oh shit darn!" I mumbled. "Now what do I do?" The conversation channels were closing and that's never positive.
Round 2: Smart questions co-write the script
Made myself a cup of coffee, paced around a bit, moaned some, cursed too, put on some mood-settling and uplifting music (now can't remember what, but it did help) and thought about my choices.
Do nothing

The email did not invite a response. "We'll let you know what we decide" is not "we'll keep you updated on our progress".

Doing nothing would be comfortable, I wouldn't put myself "out there", it wouldn't be risky.

Doing nothing would be passive and give me no information. Worse, what would it signal to my prospect? That I cave in at the first obstacle? That I wasn't that interested?

Email back

And say what? Thanks for letting me know? Keep me posted on how the project evolves? Don't hesitate to contact me if I can be of any help?

Yawn. Insipid. Not a heck of a lot better than doing nothing. The prospect might not reply.

Call

Picking up the phone was the only viable alternative to get a feel for where they were and stay in the loop.

You can't improvise this kind of call.I grabbed a sheet of paper and made 2 columns: questions to avoid and questions that would give me more insight.

It looked a bit like this:

[wpcol_1half id="" class="" style=""]Nowhere questions

Why did you cancel the session? (whiny)
How did I do in the meeting? (insecurity)
Am I still in the running? (navel oriented)
What other info do you need? (let me make you love me)
When will you decide? (impatience)[/wpcol_1half] [wpcol_1half_end id="" class="" style=""]Smarter questions

What are the key issues you need to focus on to progress?
What came out of our meeting?
How can I assist you in moving the strategy forward?
What would be the first step in our working together?[/wpcol_1half_end]
The plot and protagonists shift
These open questions favored a rich dialog. Turns out the questions I'd asked at the meeting 1) influenced to a degree how they were organizing the project and 2) shifted their view of my potential role in it.
I'm still in the saddle, but I may have changed horses and the race I want to win has taken a new turn.
Would I have known that otherwise? I doubt it. At worst, the competition might have been over and at best I'd be striving to win the wrong race.
Take away
Learning how to ask better questions is a key business development and project management skill.
I'm thinking about designing a workshop to help other independent professionals pick up those reflexes to improve their positioning and grow their business. If the idea appeals to you, drop me a line in the comments, we'll see how we can work it out.
And meanwhile, tell us: What's the best business question you ever asked and what difference did it make?
Tags: art of questioning, Business development, freelance marketing, linkedin, siteEN, thought leadership